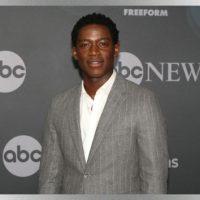 (Walt Disney Television/Yolanda Perez)Ahead of it's third season return tonight on FX, Snowfall's lead actor Damson Idris tells ABC Radio that the legacy of the show's creator John Singleton will live on in the series.
"I won't give too much away, but we honor John and kind of the genesis of his career and who he was in South Central," Idris reveals.
He continues, "There's an interaction with myself and a 'John Singleton' and Leon, played by Isaiah John. It's gonna be nostalgic, it's gonna be beautiful, and you know as he runs off…whoa, I don't wanna talk too much about it but, yeah."
The series, which was co-created and executive-produced by Singleton, stars Idris as Franklin Saint, a young street hustler working to build his credibility in the drug game. As the series jumps into the mid 1980s, the young actor also confirms that Singleton's infant son will also make an appearance this season.
"And we also have his son, Seven, in the same scene too," Idris adds. "So yeah that's going to be beautiful."
As previously reported, Singleton died on April 29 of complications following a stroke. The director made history as the first black person and the youngest filmmaker ever to be nominated for the Academy Award for Best Director for his critically-acclaimed film Boyz In The Hood. He's also been lauded for his work in TV, including directing episodes of such shows as Empire, The People v. O.J. Simpson: American Crime Story, and Billions.
Snowfall, also staring Marcus Henderson, Carter Hudson and Sergio Peris-Mencheta, premieres tonight at 10 p.m. ET on FX.
Copyright © 2019, ABC Radio. All rights reserved.