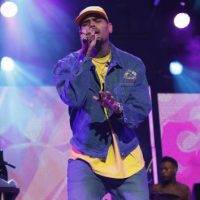 ABC/Randy Holmes
Chris Brown has revealed the cover art and the release date for his forthcoming album, Indigo.
For the album's front cover, posted on Breezy's Instagram, Brown's pictured as an otherworldly figure with purple hair. The accompanying back cover, on the other hand, shows a man floating above a pyramid as he's suspended within what appear to be sonic waves.
Brown confirmed in the photo's caption that Indigo is set to arrive on June 21 or possibly June 28.
In a follow-up post, the "Undecided" singer shared a photo collage inspired by Avengers: Endgame, with him pictured alongside Indigo's collaborators.
"I have acquired all the infinity stones. Only this time when I "SNAP" hopefully people will wake up," Chris captioned the photo which features the likes of Drake, Nicki Minaj, Lil Wayne, Justin Bieber, Lil John, Tyga and more.
As previously reported, Indigo will consist of 30 tracks in honor of Brown turning 30 this year. The effort will serve as a follow-up to Chris' 2017's double album, Heartbreak on a Full Moon.
Copyright © 2019, ABC Radio. All rights reserved.